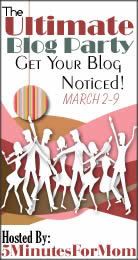 It is the

party of the year

in the blogging world and you are being invited to attend!! It is being hosted by
5 Minutes for Mom
. It is a great opportunity to meet other fabulous bloggers and to win some pretty sweet prizes!
When:
March 2- March 9 (that's right - a WEEK LONG party!!)
Where:
Right where you are now - your couch, desk, bed, local coffee shop or work. Wherever it is you happen to be you can join in the fun! All you need is your computer!
Dress:
Make it as formal or informal as you wish! You can party in your pj's. Or party in your work clothes. You can party with curlers in your hair and teeth whitening caps on your teeth if you wish.
RSVP:
Of course I want to know if you're joining in the fun!! Leave a link back to your party so I know to go check your site out and get to know you a bit better! And of course, if you leave the link to your party on
THIS
site you are eligible to win
THESE
fantastic prizes!

Alright, now that the invitation has been set forth

let me introduce myself to you!!
I am 21 years old and am married to the hottest man on earth. Seriously, he is quite dreamy.
In April we will be celebrating our 2nd anniversary!! My husband is in the military, and that has resulted in us moving around a little bit. We have lived in Oklahoma, Ohio, and now Georgia. I rather like having lived in those different places - but now I am ready to settle down and stay in one place for awhile! Five weeks ago we had our son:
Judah Spencer James


He was five weeks premature, and we are so glad he was!! He is such a sweet baby we love having him around!! He definitely gets his cuteness from his daddy!
Some of my favourite activities include blogging, photography, scrapbooking, reading, playing games and cooking with my husband.
Some activities I do not enjoy would include skiing, swimming, driving stick shift and ironing. In fact, in the almost two years we've been married I think I have ironed once.
Other random and useless facts about me, so that you can feel you know me better:
- I use straws whenever possible
- I do not load our dishwasher very efficiently (a product of growing up without a dishwasher!)
- I clip tons of recipes from magazines and then never use them
- I love getting mail
Alright - so now, grab your dancing shoes
Or if you prefer, your bedroom slippers.
Grab a bite to eat
And something to drink
And let's get this party started!!