Last Wednesday I had a couple cysts removed which required a few stitches in the back of my head. It hurt a lot more than I had imagined it would and I was pretty wiped out when I got home from the hospital. Thankfully Paul was home and the sweet man told me I should go lay down in bed.

Feeling badly about leaving the family I instead lay on the couch in the family room.


A package had been delivered while we were out and I opened it, rather unenthusiastically. It was from Timberdoodle - a Rocket Launcher and a My First Brain Box for the boys and I to use and review.

Even though I felt miserable I opened the Brain Box up for Judah and let him look through the cards - I was soon amazed by the creativity these cards inspired in my almost three year old.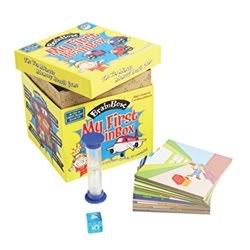 Brain Box Games
are sold by Timberdoodle for $17 each - they offer 5 different versions of the Brain Box. The other 4 boxes (which I have not seen) are titled World, USA, Animals and US Presidents.
My First Brain Box
is designed to encourage observation skills and creativity and is recommended for children age preschool and up. With a 1.5 year old and an almost 3 year old this is a great product for their ages - and one that they will grow into too! My First Brain Box comes with 55 double sided cards. On one side of the card is a brightly colored illustration. On the other side is 6 questions related to the illustration.
The way you are suppose to play is to look at the picture, flip it over, roll a dice numbered 1-6 and answer the corresponding question about the illustration

How many clouds did you see? What was the man holding? Are all the flower pots empty?

If you answer correctly you keep the card, and the person with the most cards wins.

That is what the boys will grow into. They aren't quite at that level of play, however they have their own way of playing with it.

Back to that first night, with me laying in misery on the couch and Judah looking through the cards. I didn't give him any instructions as to what he should do, but looking at the cards one by one he went into great detail to tell me the story of each card. I love my boys imagination and I love things that encourage their imagination, and My First Brain Box definitely encourages the imagination!!

Wesley also jumped in on the fun and picked out the cards with illustrations he recognized - various foods, animals and toys. That first night we didn't play with My First Brain Box for long, but I knew we would have tons of fun with it!

Since Wednesday we have played with the game several times. Each time we play it slightly differently.

I have laid out 6 cards at a time and asked them to find a particular item.
I have shown Judah 1 card, flipped it over and quizzed him on what he remembered - I was blown away by the fact that he could answer almost all the questions I asked him!
I have shown Judah 1 card and asked him to list everything and every color that he saw.
I have given him a huge stack of cards and asked him to pull out all the cards with animals or with cards or with the sun, etc.
I have shown him 1 or 2 similar cards and asked him to tell me the story behind them.
I have sat with him and gone through all the cards and let him ask me questions about what things are that he doesn't know.

There are so many ways you can vary this game and I really like that as it keeps me from getting bored!!

The cards are very durable, as is the box that they came in. Both important features with little manly men in the house :) I honestly really love this product. We love playing games in this house and this is a great game for our boys!

If you are looking for any last minute Christmas gifts I would highly recommend My First Brain Box. Check out the other
educational games
offered by Timberdoodle too.
The other item that Timberdoodle sent was a
Hot Rocket
. This has gotten a ton of attention from Judah - anything that resembles a weapon is
super cool
in this house. He hasn't gotten the hang of shooting it properly, but that doesn't matter to him. I like that it is made of soft foam so when he gets the hang of shooting it he won't be hurting anything or anyone!
The Hot Rockets sell for $1.95 but Timberdoodle is offering them for free with any other item ordered! Use the coupon code pfreerocket at checkout.

This is a Mama Buzz review. The product was provided by Timberdoodle for this review. The thoughts and opinions are entirely my own.