I was excited to receive the
I Can Trace
book and
Prisma Color pencil crayons
put out by Timberdoodle, who offers a large selection of
homeschool curriculum
.
The I Can Trace book is part of the
Big Skills for Little Hands
series and there are 6 other books in the series, each book focusing on building motor skills. The I Can Trace book has a large selection of tracing activities, with each page building on skills developed on previous pages.
I was so excited to open the book and spent a good bit of time looking through its colorful pages. Judah has also spent a lot of time simply looking at the pages and telling me "stories" about different pages.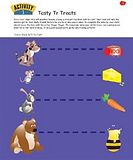 The above image is the first tracing activity - the child is to trace from left to right, starting with an animal and ending with its food. This is about the extent of Judah's attention span and tracing skills right now :) We have spent about 10 minutes each day over the last several days working on this page and a similar one from the book.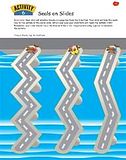 Another fun tracing activity
In the days I have spent with him I have seen him improve greatly in his skills to be able to trace a straight line - both with his finger and with his pencil.
I had thought that Wesley would be able to sit and trace alongside with us, but Wesley (1.5 yrs) shows no interest in the activity other than to try to snatch his brothers pencil crayons away from him!
The I Can Trace book is labeled for 2-6 year olds. I think it is a bit too much for most 2 year olds - at least new 2 year olds. At almost 3 the book is one that Judah will be growing into, and yet has simple tracing (such as the first page, shown above) that he is able to work on it right now.
Overall I am thrilled with this book and would highly recommend it to moms for their preschool aged child.
Another bonus to this book: Each page in the book is one sided and perforated, which makes it easy to hang the completed work on the fridge.
The book is priced for $10.50 on their site and I think this is an excellent value for the book - we will definitely be using this book over the next few months and I will probably order a couple other books from the series too.
The
PrismaColor pencil crayons
that were included in our package for review make for beautiful, vibrant art. I love the quality of these pencil crayons, but at $8 for a package I wouldn't spend the money on them for my boys quite yet - they are still learning to respect their possessions and coloring tools - whether it be markers, crayons or pencil crayons- sometimes disappear or break. I would rather buy the cheaper packages of pencil crayons until they are a bit older, but once they are old enough to take care of the items they own I will be buying these pencil crayons for them as I love them!
While I received these items for free as part of the MamaBzz tour the review is entirely my own thoughts. I value my readers and have been completely upfront and honest with my thoughts.